Toddy® Cold Brew System - Pro Series 20 - US
Interested in purchasing our wholesale products? Log in or request an account.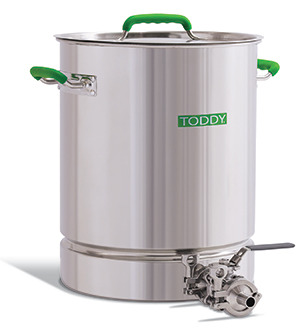 New! Featuring a 20-gallon stainless steel brewing vessel, a threadless dispensing valve and compostable filters.
Introducing the Toddy® Pro Series line of cold brewing equipment.
Check out our Pro Series Introduction Video.
This new, patented product line is designed to help you scale up your cold brew program. We've listened to your feedback and incorporated many small details to make large volume brewing simple, efficient and food safe.
In the Box:
brewing container
lid
filter platform
valve assembly
dispensing hose
Toddy® Cleaner
mixing paddle
10 filters
Food Safety Features:
All metal parts are constructed from brewer's grade (304/CF8) stainless steel.
The valve is easily removable, cleanable (can be completely disassembled and reassembled) and utilizes a threadless, food grade "sanitary" connection with easily replaceable food grade gaskets.
The internal filter platform is constructed from one solid piece of stainless steel and has no folds or pockets where liquids or coffee grounds could get trapped.
The lid handle fits on the brewer handle for storage to keep the lid from being placed on any surfaces that may not be clean.
The system uses single use, compostable filters (rather than metal mesh screens that are prone to clogs).
SKU: TPS20US
UPC: 758591023037