Toddy® Timer
Interested in purchasing our wholesale products? Log in or request an account.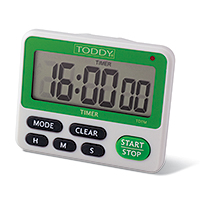 The new Toddy® Timer is designed to ensure consistent quality cold brew from batch to batch. Easily track brew

time

with count-down and count-up capabilities. Includes a clock mode for everyday use, an enhanced alarm to overcome background noise, and a flashing LED indicator light for visual alert when in silent mode. User intuitive operation requires no complicated set-up or programming. 
The Toddy

Timer

features 3 versatile options for attachment including magnets, a retractable stand for counter use, and an eyelet for hanging. Activates via a simple on/off button and silent alarm switch. Powered by 2 AAA batteries (included).
Toddy

Timer

2 AAA Batteries
Instructions
Simple and intuitive operation
Count up, count down, and clock modes
Large high quality LCD display for improved viewing distance
Large clearly labeled buttons
Multiple attachment options
Loud alarm and flashing LED indicator light
Batteries included
SKU: TDTM
UPC: 758591034019