Toddy® Cold Brew System - Rubber Stopper 2-pack with hang tag
Interested in purchasing our wholesale products? Log in or request an account.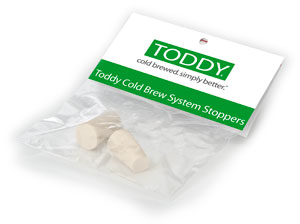 The first step in brewing with a Toddy® Cold Brew System is simple but necessary: placing the Toddy® Rubber Stopper in the brewing container. These natural rubber stoppers are sold 2 stoppers per bag and 12 bags per case for 24 total stoppers. Each bag contains its own display hang tag label with barcode, making it ideal for retail sales.
Unlike our filters, which we suggest replacing after every 10 to 12 uses, Toddy® Rubber Stoppers can be used indefinitely, but should be kept on hand in case they are lost or misplaced.
SKU: THM12RS
UPC: 758591011201