Toddy® Cold Brew Cupping Kit Tree Free Filters - Pack of 50
Interested in purchasing our wholesale products? Log in or request an account.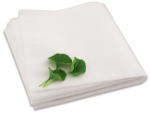 Plant-based Toddy® tree free filters strain out the bitter acids and fatty oils. Left behind is the smooth, rich flavor that millions have enjoyed since 1964. Each compostable filter is fabricated to precise requirements specific to the Toddy® Cold Brew Cupping Kit.
SKU: TCKTF50
UPC: 758591041017